Indonesia Sebagai Poros Maritim Dunia: Perspektif Keamanan Maritim Mulyadi
Abstract
Indonesia sebagai Poros Maritim Dunia (PMD) tidak terlepas dari perkembangan lingkungan strategis yang sangat dinamis. Isu-isu yang berkembang di dalam negeri dan luar negeri yang berkaitan dengan keamanan di laut sangat berpotensi memengaruhi kepentingan Indonesia. Perlu upaya-upaya konkret dalam pemenuhan alat utama sistem terpadu yang ditunjang implementasi dari kebijakan gelar kekuatan laut yang tepat guna menciptakan jaminan keamanan maritim. Dalam Keamanan Maritim Indonesia perlu mengoptimalkan peran dan tugas Bakamla serta penyediaan anggaran yang memadai.
Kata kunci: Poros Maritim Dunia, Keamanan Maritim, Indonesia.

Indonesia as the Global Maritime Fulcrum (GMF) certainly cannot be separated from the development of a very dynamic strategic environment. Issues are developing at domestic and abroad relating to security at sea have the potential to affect Indonesia's interests. Concrete efforts are needed in the fulfillment of defense equipment which is supported by the implementation of the right sea power degree policy to create maritime security guarantees. In Maritime Security, Indonesia needs to optimize Bakamla's roles and tasks and provide adequate budget.
Keywords: Global Maritime Fulcrum, Maritime Security, Indonesia.
DOI:
https://doi.org/10.52307/ijm.v8i1.49
Refbacks
There are currently no refbacks.
---
Indexed by: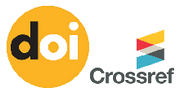 ---
Copyright of Jurnal Maritim Indonesia (Indonesian Maritime Journal)

This work is licensed under a Creative Commons Attribution-NonCommercial-ShareAlike 4.0 International License.
---
ALAMAT REDAKSI
PUSJIANMAR SESKOAL
Jalan Ciledug Raya No.2 Cipulir
Kebayoran Lama Jakarta Selatan 12230
Tlp. +62 2129408081
Fax. +62 2129408081
Email: pusjianmar@tnial.mil.id