MODEL PENDANAAN INDUSTRI PERTAHANAN DAN PENINGKATAN SUMBER DAYA MANUSIA
Abstract
Abstrak
Sebagai negara kepulauan posisi strategis Indonesia memiliki implikasi terhadap pengembangan kekuatan pertahanan guna menghadapi dinamisnya perubahan lingkungan strategis baik dalam tataran regional maupun secara global. Naiknya anggaran pertahanan negara-negara di Kawasan telah memberikan tantangan tersendiri bagi Indonesia seperti apa perencanaan kekuatan yang diharapkan oleh negara kepulauan terbesar di dunia ini. Kebijakan pemerintah dalam bidang industri pertahanan merupakan langkah strategis guna membangun kekuatan pertahanan di Kawasan yang secara langsung berimplikasi secara global terhadap perimbangan kekuatan. Industri pertahanan memiliki peranan yang sangat signifikan dihadapkan dengan perkembangan teknologi dewasa ini. Oleh karena itu, kebijakan terkait penganggaran dalam mewadahi kepentingan pembangunan kekuatan pertahanan Negara Kesatuan Republik Indonesia harus diatur sedemikian rupa sehingga arah perencanaan pembangunan kekuatan dapat terwadahi secara maksimal dan tepat guna. Salah satu faktor yang sangat berpengaruh serta memiliki keterkaitan dalam rangka membangun kekuatan pertahanan sebuah negara dalam hubungannya dengan kebijakan industri pertahanan adalah sumber daya manusia. Peningkatan sumber daya manusia bersifat linear terhadap pembangunan kekuatan pertahanan. Oleh karena itu peningkatan kekuatan pertahanan selalu diikuti dengan peningkatan sumber daya manusia. Dalam tataran kebijakan, pemerintah memiliki peran yang sangat penting terhadap upaya alokasi pendanaan anggaran pertahanan guna mewujudkan sebuah Angkatan perang yang memiliki daya pukul yang besar.
Kata kunci: kebijakan, penganggaran dan sumber daya manusia

Abstrack
As an archipelagic country, strategic position of Indonesian territory has an implication toward it defense power development in dealing with a dynamic changing of strategic environment not only in regional site but also global international vicinity. A rising defense budgeting of nations in regional area has brought a significant challenging to Indonesia related to its defense power planning. Indonesian government policy especially in term of defense industry has judged as strategic step to develop its defense power in regional area, which has a direct implication, In the global level related to defense balancing policy. Defense industry has a significant role in dealing with current technology development. Therefore, policy tied to defense budgeting to allocate defense power development interest should be arranged until defense power planning could be maximally allocated and on target.
One of the factors that bring a significant impact in term of building a country defense power related to its defense industry policy is human resource. Rising human resource give an impact linearly toward defense power development. So, defense power development always followed by human resource improvement. In the strategic level policy, Indonesian government has an important role toward defense budgeting allocation effort to embody the strong Indonesian armed forces.
Keywords: Policy, Defense Budgeting, Human Resource
References
Buku
Avant, Deborah. A. 2005. The Market for Force: The Consequences of Privating Security. Cambridge: Cambridge University Press.
Bitzinger, Richard. A. (ed). 2009. The Modern Defense Industry: Political, Economic, and Technological Issues. New York: Praeger.
Gansler, Jacques. S. 2013. Democracy's Arsenal: Creating a Twenty-First-Century. Massachusetts: MIT Press.
Heidenkamp, Henrik, John Louth dan Trevor Taylor. 2013. The Defense Industrial Triptych: Government as Customer, Sponsor and Regulator. Essex: Royal United Services Institute for Defense and Security Studies.
Hasik, James. 2008. Arms and Innovation: Enterpreneurship and Alliances in the Twenty-First Century Defense Industry. Chicago: University of Chicago Press.
Harbison, John R. et al. 2000. US Defense Industry Under Siege: An Agenda for Change. New York: Booz, Allen and Hamilton.
Silmy, Karim. 2014. Membangun Kemandirian Industri Pertahanan. Jakarta: Kepustakaan Populer Gramedia.
Sampurno-Kuffal, F. Harry 2011. Keruntuhan Industri Strategis Indonesia. Jakarta: Khazanah Bahari. Singer, P.W. 2007. Corporate warriors: The Rise of Privatised Military Industry. New York: Cornell University Press.
Verkuil, Paul. R. 2007. Outsourcing Sovereignty: Why Privatization of Government Functions
Threatens Democracy and What we Can Do About It. Cambridge: Cambridge University Press.
Jurnal
Muradi. 2009. "Praktik-praktik Defence Offset di Indonesia". Journal Analysis CSIS. September. Mills, Steve, Scott Fouse & Allen Green. 2013. "Creating and Sustaining and Effective Government Defense Industry Partnership", Publication of The Defense Acquisition University. September.
Neuman, Stephanie G. 2010. "Power, Influence, and Hierarchy: Defense Industries in A Unipolar World". Journal of Defence and Peace Economics. Columbia University, New York. Vol. 21 Issue: 1. April.
Rohi, Douglas R. 1973. "Profit Performance in the Defense Industry". Journal of Political Economy. Vol. 81. No. 3. Mei-Juni.
Website
Koran Sindo, "Mengenal Industri Pertahanan Indonesia", http://www. Koran-sindo.com/read/938863/149/ mengenal-industri-pertahanan-indonesia 1418873129, diunduh pada 1 Februari 2022.
Sinar Harapan, "Menuju Kemandirian Industri Pertahanan Nasional" http://sinarharapan.co/news/read/140916033/menuju-kemandirian-industri-pertahanan-nasional, 16 September 2014, diunduh pada 1 Februari 20
DOI:
https://doi.org/10.52307/jmi.v10i1.102
Refbacks
There are currently no refbacks.
---
Indexed by: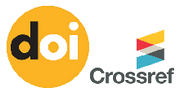 ---
Copyright of Jurnal Maritim Indonesia (Indonesian Maritime Journal)

This work is licensed under a Creative Commons Attribution-NonCommercial-ShareAlike 4.0 International License.
---
ALAMAT REDAKSI
PUSJIANMAR SESKOAL
Jalan Ciledug Raya No.2 Cipulir
Kebayoran Lama Jakarta Selatan 12230
Tlp. +62 2129408081
Fax. +62 2129408081
Email: pusjianmar@tnial.mil.id