DIPLOMASI PERTAHANAN MARITIM INDONESIA: KERJASAMA KEMARITIMAN INDONESIA – AUSTRALIA DALAM 'PLAN OF ACTION FOR THE IMPLEMENTATION OF THE JOINT DECLARATION ON MARITIME COOPERATION 2018-2022'
Abstract
Belum berlakunya ketentuan perbatasan Indonesia - Australia dalam Perth Treaty 1997 mengundang berbagai ancaman tersendiri terhadap keberlangsungan kedua negara, sehingga status kawasan perbatasan tersebut perlu dipetakan dengan tepat. Peraturan Presiden Nomor 16 Tahun 2017 tetang Kebijakan Kelautan Indonesia, sebagai suatu roadmap kemaritiman Indonesia, telah mengamanatkan bahwa program prioritas kemaritiman negara ialah melaksanakan percepatan perundingan batas maritim Indonesia dengan negara tetangga melalui mekanisme diplomasi pertahanan maritim yang berakar pada cita-cita Poros Maritim Dunia (PMD). Dengan demikian, Indonesia pada dasarnya mengartikan diplomasi pertahanan maritim sebagai bentuk implementasi kebijakan luar negeri Indonesia yang dilakukan demi mencapai tujuan besar kemaritimannya, sehingga memberikan kesempatan bagi Indonesia untuk mengembangkan kemampuan kemaritimannya sembari menjaga dan mempertahankan integritas wilayah kedaulatannya, salah satunya melalui Joint Declaration on Maritime Cooperation beserta dengan plan of action yang terdiri dari sembilan area prioritas. Tentu kerjasama kemaritiman tersebut bertujuan untuk mewujudkan tercapainya confidence building meassure yang dapat menunjang keamanan, pertahanan, kepastian hukum terhadap hak berdaulat, pengembangan kemampuan kemaritiman hingga mewujudkan kesejahteraan masyarakat secara bersama.
Kata Kunci: Diplomasi Pertahanan Maritim, Poros Maritim Dunia, Kerjasama Maritim, Perbatasan Maritim, Indonesia - Australia

Abstract
The non-enactment of the Indonesia-Australia border resolved in 1997 Perth Treaty invites various threats to the sustainability of both parties, hence the status of its border needs to be mapped accurately. Presidential Regulation Number 16 of 2017 on Indonesian Maritime Policy has mandated that the national maritime policy has to prioritize the acceleration of Indonesia's maritime boundaries negotiation with its neighboring countries through a maritime defense diplomacy mechanism rooted in the ideals of the Global Maritime Fulcrum (GMF). Thus, Indonesia defines maritime defense diplomacy as a form of foreign policies that carried out to achieve its national maritime goals, thereby providing an opportunity to develop its maritime capabilities while maintaining its territorial integrity, one of which is through the Joint Declaration on Maritime Cooperation along with its plan of action that consisting of nine priority areas. By this manner, this cooperation aims to achieve confidence building measures that can ensure its national security, defence, legality of its rights, development of maritime capabilities and the prosperity of both countries.
Key Words: Maritime Defence Diplomacy, Global Maritime Fulcrum, Maritime Cooperation, Maritime Border, Indonesia - Australia
References
Arsana, I. (2007). Batas Maritim Antar Negara: Sebuah Tinjauan Teknis dan Yuridis, Yogyakarta: Gadjah Mada University Press.
Hermansyah, A. (2018). "Indonesia, Australia to revisit maritime border agreement." Retrieved from https://www.thejakartapost.com/news/2018/03/16/indonesia-australia-to-revisit-maritime-border-agreement.html , diakses pada 13 Januari 2022.
Krippendorff, K. (1989). Content analysis. In E. Barnouw, G. Gerbner, W. Schramm, T. L. Worth, & L. Gross (Eds.), International encyclopedia of communication (Vol. 1, pp. 403-407). New York, NY: Oxford University Press
Laksmana, E. (2018). Reinforcing Indonesia – Australia defence relations: The case for maritime recalibration. Sydney: Lowy Institute.
Laksmana, E., Gindarsih, I. & Mantong, A. (2018). "Menerjemahkan Visi Poros Maritim Global ke dalam Kerangka Diplomasi Pertahanan Maritim dalam Kebijakan Luar Negeri Indonesia di Era Jokowi". CSIS Working Paper Series, pp. 2-36.
Lembaga Ilmu Pengetahuan Indonesia. (2015). "Indonesia Menjadi Poros Maritim Dunia." Retrieved from http://lipi.go.id/lipimedia/indonesia-menjadi-poros-maritim-dunia-/10410 , diakses pada 14 Januari 2022.
Muhammad, S. (2014). "Indonesia Menuju Poros Maritim Dunia." Info Singkat Hubungan Internasional, 6(21), pp. 5-8.
Nugraha, M. & Sudirman, A. (2016). "Maritime Diplomacy Sebagai Strategi Pembangunan Keamanan Maritim Indonesia." Jurnal Wacana Politik, 1(2), pp. 175-182.
Peraturan Presiden Nomor 16 Tahun 2017 tentang Kebijakan Kelautan Indonesia (Lembaran Negara Republik Indonesia Tahun 2017 Nomor 32)
Perwita, Anak Agung Banyu. (2020). Visi "Poros Maritim Dunia" Joko Widodo: Respons terhadap Dinamika Kawasan Indo-Pasifik. Bekasi: Lembaga Riset dan Pengabdian pada Masyarakat, Universitas Presiden.
Rigg, M. (2017). The Relevance of Borders in the 21st Century. Alabama: School of Advance Air and Space Studies.
Tangredi, S. (Ed). (2002). Globalization and Sea Power: Overview and. Washington D.C.: Institute for National Strategic Studies National Defence University.
Undang Undang Nomor 24 Tahun 2000 tentang Perjanjian Internasional (Lembaran Negara Republik Indonesia Tahun 2000 Nomor 185, Tambahan Lembaran Negara Republik Indonesia Nomor 4012)
United Nation Convention on the Law of the Sea 1982
Wicaksono, T., Setyawanta, L., & Susetyorini, P. (2019). "Hambatan Indonesia Dalam Meratifikasi Perjanjian Tentang Penetapan Batas Zona Ekonomi Eksklusif (ZEE) Dan Batas Dasar Laut Tertentu Tahun 1997 Antara Indonesia Dan Australia". Diponegoro Law Journal, 8(4), pp. 2767-2778.
DOI:
https://doi.org/10.52307/jmi.v10i1.101
Refbacks
There are currently no refbacks.
---
Indexed by: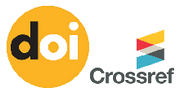 ---
Copyright of Jurnal Maritim Indonesia (Indonesian Maritime Journal)

This work is licensed under a Creative Commons Attribution-NonCommercial-ShareAlike 4.0 International License.
---
ALAMAT REDAKSI
PUSJIANMAR SESKOAL
Jalan Ciledug Raya No.2 Cipulir
Kebayoran Lama Jakarta Selatan 12230
Tlp. +62 2129408081
Fax. +62 2129408081
Email: pusjianmar@tnial.mil.id