OPTIMALISASI PENGEMBANGAN INDUSTRI PERTAHANAN KAPAL TANPA AWAK UNTUK TINDAKAN PERLAWANAN RANJAU SMART MINE
Abstract
Abstrak
Peperangan ranjau dibagi menjadi operasi Peranjauan dan operasi Tindakan Perlawanan Ranjau (TPR). Operasi TPR adalah semua tindakan yang dilakukan untuk melawan ranjau atau menetralisir ranjau yang disebar. Operasi TPR merupakan salah satu tugas yang dijalankan oleh Satuan Kapal Ranjau bersama dengan unsur- unsurnya. saat ini terdiri dari kapal-kapal Buru Ranjau (BR) dan Penyapu Ranjau (PR). Untuk peningkatan dari segi platform dan sewaco yang sangat berpengaruh terhadap pelaksanaan operasi TPR. Beberapa negara telah mengembangkan teknologi yang lebih efektif dengan memanfaatkan Kapal tanpa awak yang dilengkapi peralatan dan sensor dengan kemampuan TPR. Namun hingga saat ini, Satran belum memiliki Kapal Tanpa Awak berkemampuan TPR. Oleh karena itu, peneliti menganggap perlu dilakukan penelitian untuk memilih Kapal Tanpa Awak yang tepat bagi Satuan Kapal Ranjau.
Kata Kunci: Peperangan Ranjau, Tindakan Perlawanan Ranjau, Smart Mine

Abstract
Mine Warfare is divided into Mining Operations and Mine Countermeasure (MCM) Operations. MCM Operations are all actions taken to counter mines or neutralize sea mines. The MCM Operation is one of the tasks carried out by the vessels of the Mine Countermeasure (MCM) Squadron of Fleet Command. The vessels of the MCM Squadron currently consist of the Mine Hunting (MH) ships and the Minesweepers (MS). For Optimalize in their capabilities both in terms of platforms and sewaco which greatly affect the implementation of MCM Operations. Several countries have developed more effective technology by utilizing Unmanned Vessels equipped with equipment and sensors with MCM capabilities. Therefore, researchers consider it necessary to conduct research to select the right Unmanned Vessel for Mine Squadron of Fleet Command.
Keywords: Mine Warfare, Mine Counter Measure, Smart Mine
References
Harjo Susmoro, Haris Djoko Nugroho dan Yanuar Handwiono, "Bunga Rampai Penetapan Batas Maritim RI-Negara Tetangga," Jakarta: Pushidrosal, 2019.
Kemenkomar, BIG dan Pushidrosal, "Berita Acara Rujukan Nasional Data Kewilayahan Republik Indonesia," Jakarta: Kemenkomar, 2018.
Larson, J., Bruch, M., and Ebken, J. "Autonomous navigation and obstacle avoidance for unmanned surface vehicles." SPIE Unmanned Systems Technology VIII (2006).
National Research Council. Making the Soldier Decisive on Future Battlefields. Washington, DC: The National Academies Press, 2013.
Neill Smith Consultant to DSAD Mission Software P/L, A Framework to Model and Measure System Effectiveness.
Salusu, J. Pengambilan Keputusan Stratejik Untuk Organisasi Publik dan Organisasi Non-Profit. Jakarta: Gramedia Widiasarna Indonesia, 1996.
Sugiyono. Metode Penelitian Pendidikan (Pendekatan Kuantitatif, Kualitatif, dan R&D). Bandung: Alfabeta, 2015.
Thomas L. Saaty, Preface Theory and Applications of the Analytic Network Process, Pittsburgh: RWS Publications, 2013.
Tejada, Jeffry J., and Joyce Raymond B. Punzalan. "On the misuse of Slovin's formula," The Philippine Statistician, Vol 61, no. 1 (2012)
DOI:
https://doi.org/10.52307/jmi.v10i1.100
Refbacks
There are currently no refbacks.
---
Indexed by: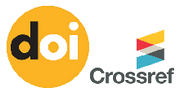 ---
Copyright of Jurnal Maritim Indonesia (Indonesian Maritime Journal)

This work is licensed under a Creative Commons Attribution-NonCommercial-ShareAlike 4.0 International License.
---
ALAMAT REDAKSI
PUSJIANMAR SESKOAL
Jalan Ciledug Raya No.2 Cipulir
Kebayoran Lama Jakarta Selatan 12230
Tlp. +62 2129408081
Fax. +62 2129408081
Email: pusjianmar@tnial.mil.id