Pemberdayaan Nelayan menjadi Badan Pengumpul Informasi sebagai Komponen Pendukung Pertahanan Negara di Laut, (Studi: Perairan Kendari, Sulawesi Tenggara)
Abstract
Abstrak
Penelitian ini dilatarbelakangi masih banyaknya kegiatan tindak pidana di wilayah yurisdiksi Nasional terutama di wilayah perairan Kendari sehingga dilaksanakan pemberdayaan nelayan di perairan Kendari untuk menjadi badan pengumpul informasi. Kegiatan pemberdayaan nelayan menjadi badan pengumpul informasi diharapkan dapat membantu Lanal Kendari serta satuan samping untuk mendapatkan informasi awal semua tindak pidana di laut yang diketahui oleh para nelayan Kendari pada saat mencari kan dilaut. Informasi yang disampaikan oleh para nelayan akan dianalisa dan menjadi data yang akurat sebagai bekal pelaksanaan operasi di laut. Pemberdayaan nelayan yang akan dilaksanakan oleh Lanal Kendari dengan melaksanakan pelatihan dan penyuluhan terhadap para nelayan, sehingga dapat meningkatkan mutu sumber daya manusia (SDM) para nelayan dan nelayan lebih berkompeten sebagai badan pengumpul informasi. Penelitian ini bersifat kualitatif dengan desain deskriptif dengan teknik pengumpulan data wawancara, observasi dan studi pustaka dan diolah dengan tools NVivo 12 serta di analisa menggunakan Metode Soft System Methodology (SSM). Hasil penelitian menunjukkan bahwa belum pernah dilaksanakan pelatihan dan penyuluhan terhadap para nelayan di perairan Kendari oleh Lanal Kendari. Belum adanya pelatihan dan penyuluhan terhadap nelayan oleh Lanal Kendari menyebabkan para nelayan tidak mengerti bahwa kehadiran mereka dilaut sangat berarti bagi pertahanan Negara. Berdasarkan analisis data, pemberdayaan nelayan di perairan Kendari menjadi badan pengumpul informasi sebagai komponen pendukung pertahanan Negara di laut dapat dilaksanakan oleh personel Lanal Kendari dengan melaksanakan pelatihan dan penyuluhan yang dapat meningkatkan mutu SDM para nelayan agar lebih berkompeten memberikan informasi semua tindak pidana di perairan yurisdiksi Nasional terutama perairan Kendari.
Kata Kunci : Peningkatan, Informasi, Sumber Daya Manusia, Perairan Kendari, Pertahanan Negara
Abstract
The background of this research is that there are still many criminal acts in the national jurisdiction, especially in the Kendari waters, so that the fishermen in Kendari waters are empowered to become information gathering bodies. The fishermen empowerment activity to become an information gathering body is expected to be able to help Lanal Kendari and its side units to obtain initial information on criminal acts at sea which Kendari fishermen know when looking for them at sea. The information conveyed by fishermen will analyze and become accurate data as a provision for carrying out marine operations. The empowerment of fishermen will be carried out by Lanal Kendari by carrying out training and counseling for fishermen, so as to improve the quality of human resources (HR) of fishermen and fishermen who are more competent as information gathering bodies. This research is qualitative in nature with a descriptive design with data interview techniques, observation and literature study and is processed with NVivo 12 and analysis using the Soft System Methodology (SSM). The results showed that Lanal Kendari had never conducted training and counseling on Kendari waters. The absence of training and counseling for fishermen by Lanal Kendari causes fishermen not to understand that their presence at sea means a lot to the defense of the State. Based on data analysis, the empowerment of fishermen in Kendari waters to become information gathering bodies as a supporting component of State defense at sea can be carried out by Lanal Kendari personnel by carrying out training and counseling that can improve the quality of fishermen's human resources so that they are more competent in providing information on all criminal acts in waters of national jurisdiction. especially Kendari waters. Keywords: Empowerment, Information, Human Resources, Kendari Waters, State Defense.
References
Aris Kurniawan, Pertahanan Negara – Pengertian, Sistem, Strategi, Hakikat Komponen, Alat, Para Ahli, 15 Januari 2020, https://www.gurupendidikan.co.id/pertahanan-negara/
An Introduction to Intelligence Research and Analysis (Jerome Clauser, 2008)
Bayu, Vita, Indah, Yanti, Peningkatan kapasitas nelayan terkait upaya pertahanan negara di wilayah perbatasan, Vol. 4 No. 1, Tahun 2014, http://ejournal balitbang.kkp.go.id/index.php/jkse/article/view/167/976
BPS Prov. Sultra, Kependudukan tahun 2019, https://sultra.bps.go.id/statictable/2019/12/12/2652/jumlah-penduduk-menurut-kelompok-umur-dan-jenis-kelamin-di-provinsi-sulawesi-tenggara-jiwa-2018.html
Filsafat Intelijen Negara Republik Indonesia (Dr. AM Hendropriyono, 2013)
Hadi Pranoto, Amarulla Octavian, "Security Strategy at Indonesia Archipelagic Sea Lane", Jurnal Pertahanan Vol 1 No 2, 93-108, http://jurnal.idu.ac.id/index.php/DefenseJournal/article/view/58/18
https://berkas.dpr.go.id/puslit/files/info_singkat/Info%20Singkat-VI- 21-I-P3DI-November-2014-7.pdf
Indonesian Sea Power Indonesia (DR. Marsetio, 2014)
Kupas tuntas intelijen negara dari A sampai Z (Yuwono, 2011)
Mustari, Supartono, Barnas, Strategi Pertahanan Laut Nusantara dalam mewujudkan Indonesia sebagai Poros Maritim Dunia, Vol 4, No 2 (2018), http://jurnalprodi.idu.ac.id/index.php/SPS/article/view/285/262
Rusdianto, Gagasan Sea Power Theory (Teori Kekuatan Laut) dari Alfred Thayer Mahan, 29 September 2015, https://www.slideshare.net/dianbinmalik/gagasan-sea-power-theory-teori-kekuatan-laut-dari-alfred-thayer-mahan
Simela Victor Muhamad, Indonesia menuju poros maritim dunia, Vol. VI, No.21/I/P3DI/November/2014,
Stevia, Taman, Transformasi Strategi Pertahanan Laut Nusantara, 2010, http://lib.ui.ac.id/file?file=digital/132791-T%2027809-Strategi%20pertahanan-Analisis.pdf
Strategi Maritim Pada Perang Laut Nusantara dan Poros Maritim Dunia (Herry Setianegara, 2014)
Strategi Kelautan: Pengembangan Kelautan dalam Perspektif Pembangunan Nasional (John Pieris, 1988)
Sumadyo, Penggunaan Teknik Analisis Dalam Pengembangan Sistem Informasi Menggunakan Soft System Methodology (SSM), 4(1) : 36-48 (2016), https://media.neliti.com/media/publications/155734-ID- penggunaan-teknik-analisis-dalam-pengemb.pdf
DOI:
https://doi.org/10.52307/jmi.v9i1.64
Refbacks
There are currently no refbacks.
---
Indexed by: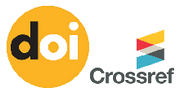 ---
Copyright of Jurnal Maritim Indonesia (Indonesian Maritime Journal)

This work is licensed under a Creative Commons Attribution-NonCommercial-ShareAlike 4.0 International License.
---
ALAMAT REDAKSI
PUSJIANMAR SESKOAL
Jalan Ciledug Raya No.2 Cipulir
Kebayoran Lama Jakarta Selatan 12230
Tlp. +62 2129408081
Fax. +62 2129408081
Email: pusjianmar@tnial.mil.id