Budaya Bahari Sebagai Modal Membangun Negara Maritim Indonesia
Abstract
Maritim dan bahari sering dipertukarkan untuk maksud yang sama. Meskipun pada umumnya mempunyai arti yang sama yakni tentang laut, tetapi terdapat perbedaan dalam makna tertentu. Substansi maritim tidak hanya berarti laut, tetapi juga menunjuk pada "lokasi yang dekat dengan laut". Itu artinya bahwa daratan berupa daerah pesisir, menjadi penghubung antara wilayah laut dengan daerah di pedalaman. Bahari memiliki arti lain tentang dimensi waktu dan tradisi berkaitan dengan laut. Dalam hal ini bahari lebih sesuai dikaitkan dengan budaya (budaya bahari), sedangkan maritim untuk negara (negara maritim). Dalam perspektif kekinian untuk mendukung visi-misi pemerintahan Ir. Joko Widodo, "Indonesia sebagai Poros Maritim Dunia". Pendapat tentang poros maritim sebagai jalur pelayaran maritim, sehingga Indonesia menguasai jalur pelayaran maritim; dalam istilah Global Maritime Nexus (GMN), lebih cocok dengan 'benang merah' sejarah mengenai jaringan pelayaran dalam konteks nusantara silang bahari. Untuk menjadi negara maritim perlu kerja keras dari setiap komponen bangsa melalui keahlian dan bidangnya masing-masing. Untuk menjadi negara maritim diperlukan budaya bahari. Perwujudan hard power pada negara maritim harus diiringi dimensi soft power, suatu kekuatan yang berasal dari budaya: nilai dan tradisi budaya bahari yang dalam perspektif historis telah terbukti. Faktor sejarah memiliki nilai lebih yaitu, memberikan banyak pilihan yang mengarah pada penemuan atau kesimpulan baru.    Kata Kunci: maritim, bahari, budaya bahari, negara maritim, poros maritim dunia, Global Maritime Nexus.
Maritime and the sea are often interchanged for the same purpose. Although in general it has the same meaning, namely about the sea, there are differences in certain meanings. The maritime substance does not only mean sea, but also refers to a "location close to the sea". This means that the land is in the form of a coastal area, which connects the sea area with areas in the interior. The sea has another meaning regarding the dimension of time and traditions relating to the sea. In this case, the sea is more suitable to be associated with culture (maritime culture), while maritime is for the state (maritime state). In the present perspective to support the government vision and mission of Ir. Joko Widodo, "Indonesia as a Global Maritime Fulcrum". Opinions about the maritime axis as a maritime shipping lane, so that Indonesia controls maritime shipping lanes; in the term Global Maritime Nexus (GMN), it fits better with the historical 'red thread' regarding shipping networks in the context of the cross-maritime archipelago. To become a maritime state, every component of the nation needs to work hard through their respective expertise and fields. To become a maritime state, maritime culture is needed. The manifestation of hard power in a maritime state must be accompanied by the dimension of soft power, a strength that comes from culture: the values and traditions of maritime culture that have been proven from a historical perspective. The historical factor has an added value, namely, it provides many choices that lead to new discoveries or conclusions.      Keywords: maritime, the sea, maritime culture, maritime state, Global Maritime Fulcrum, Global Maritime Nexus.
DOI:
https://doi.org/10.52307/ijm.v8i2.37
Refbacks
There are currently no refbacks.
---
Indexed by: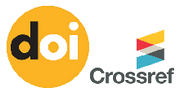 ---
Copyright of Jurnal Maritim Indonesia (Indonesian Maritime Journal)

This work is licensed under a Creative Commons Attribution-NonCommercial-ShareAlike 4.0 International License.
---
ALAMAT REDAKSI
PUSJIANMAR SESKOAL
Jalan Ciledug Raya No.2 Cipulir
Kebayoran Lama Jakarta Selatan 12230
Tlp. +62 2129408081
Fax. +62 2129408081
Email: pusjianmar@tnial.mil.id